Firstly, I want to tell everyone to have a great Halloween. If you have got some plans or a costume you want to share drop it in my comments. I'm interested to read how everyone has decided to spend it. I still have no Halloween plans as of yet.
There is nothing I had in mind for this blog. I can't say anything interesting enough has been going on with me. I have been cleaning for the past two days and nights. Rounding up some things I want to sell off and some things I hate to see go, but I need the money. While cleaning I remembered how some were interested in seeing more photos. I thought I would make this more of a photo entry and show off a bit of my dorky side.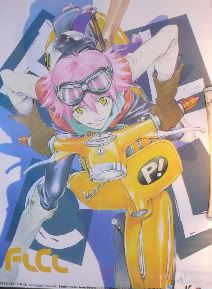 Wallscrolls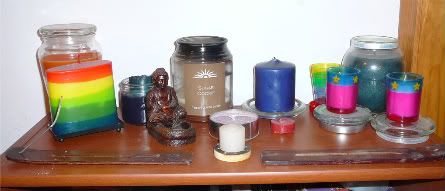 My candle and incense station.
I'm sure you all know who Buddha is.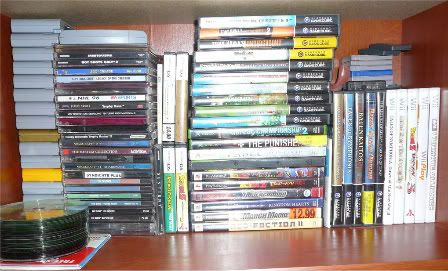 N64, PC, Gamecube, Xbox, PS2, Wii, Gameboy, DS, Gameboy Advanced games. Not all of my video games are there. I have SNES, NES, and Sega games boxed up in my closet.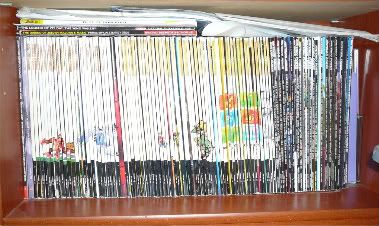 My old collection of Nintendo Power magazines and a few strategy guides which are always interesting to read.
First shelf has my HD converter box, a switch box, and my DVD player. Second is my xbox, a couple games, and memory cards. Third on the left is a PS2, a PS2, a wii, and a gamecube. Right xbox 360, and an SNES. Between them are a DS, Gameboy Advanced SP, Two Gameboy Colors, and a Gameboy Pocket.
A mixed stack of DVDs and video games.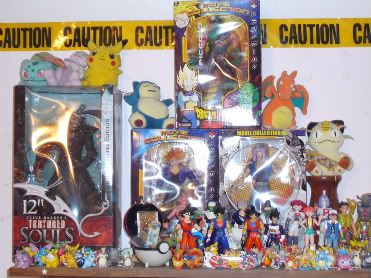 My collection of Anime action figures. Dragonball Z, Pokemon, Digimon, and a Clive Barker limited edition figure that I am thinking of putting for sale.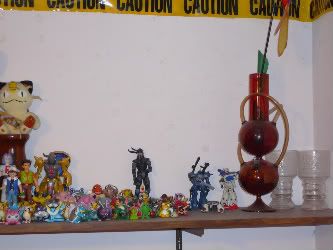 More Pokemon and Digimon with Snake and some Gundam. Theres a couple Lord Of The Ring goblets in the corner. (Note: Don't pay attention to the bong. I don't smoke and I don't condone it.)
So, I hope you all enjoy the random bit I decided to show you. I have to say I posted this mainly for Tsukita who wanted me to post these pictures and to my bro, D, since we are both awesome dorks.
I am also still looking for those interested in a Lockerz invite. I really need people who want to join up. I appreciate it very much from those of you who already have.
Drop a comment and let me know what you think. Take care everyone. I'll see you around.
__________
Kon <3 Pon